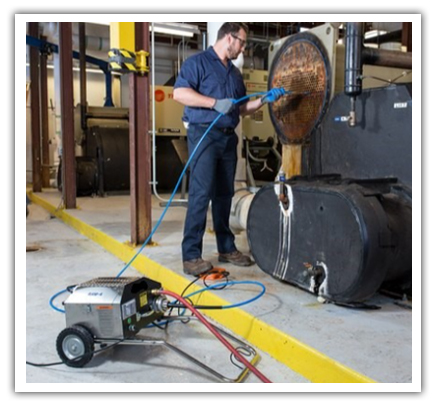 We have successfully performed a condenser tube cleaning job at Oil refinery located near Mumbai. Our experienced technicians were able to cleaned 1400 completely choked. nos of condenser tubes within 20 working days, which otherwise would have not possible to clean those tube with other conventional methods of High Pressure Jet cleaning etc. & customer would had no option but to replace these tubes.

SHINGARE (SIPL) caters to the complete bolting work-flow, ensuring joint integrity in a variety of applications throughout the industry.
We manufacture engineering products such as tube expander, tube cleaner, tube tools, hydraulic tube expansion, tube pulling, and pipe beveling machines. We also deal in the manufacture of flexible shaft grinders, construction equipment, hydraulic torque wrench, impact socket, pneumatic tapping machines, and many more ...
We understand the challenges our clients face when maintaining or cleaning Chiller, boiler, condenser equipment, which is why we are committed to providing our clients with cost-effective and innovative solutions, no matter how large or small. Service Provider of a wide range of services which include tube cleaning services, heat exchanger tube cleaning services, boiler tube cleaning services and condenser tube cleaning services by mechanical (Brush/cutter) and Hydro jetting method.
We improve the HEALTH and EFFICIENCY of your Heat Exchangers.